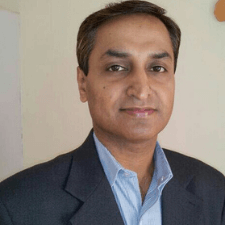 Vinit Mahey
Founder, CEO
Vinit Mahey, Founder and CEO, Mind Matters is a leading Communications Management professional with over 25 years experience in the media and consulting domains. Having founded Mind Matters in 2002, he has steered the company to make it a leading PR, Digital and Social Media Solutions company. Vinit has built the company on a strong foundation of best practices in consulting globally. Under his leadership Mind Matters was one of the first PR companies in India to introduce concepts like PAT Assurance™ and comprehensive qualitative and quantitative measurability of PR.
Mind Matters has successfully launched and delivered PR, Digital and Social Media solutions for many global MNCs with their company HQ in USA, Europe and APACJ. During his professional career, Vinit has been associated with globally renowned MNCs including BNY (Bank of New York) Mellon, Johnson Controls, ISRC (United Technologies Group), Omega Watches (Swatch Group), Konecranes and Demag, Sandvik Asia, Alfa Laval, Mercedes Benz, Cummins, Thermax, Piaggio, Veritas, Symantec, Extentia and others. An accomplished leader in communications consulting, Vinit has played a key role in getting some of these companies to launch their PR or PR for their flagship events or marketing campaigns in India. He has developed Mind Matters develop long standing and sure footed relationships with the Press across the country including TV News channels in Delhi and Mumbai. Vinit is known to senior journalists and editors of leading print and TV media in India. He is consulted by leading MNCs for Crisis PR solutions.
Vinit has motivated and encouraged his team to offer PR, Digital and Social Media Solutions based on innovative solutions. Mind Matters offers services and solutions built on the latest media tools including both emerging and trending technology platforms.
He has designed and developed reputation management strategies for many other small and midsized companies too. Vinit, is an accomplished trainer having conducted Media Communications Training for expat CEOS and leadership teams of MNCs in India.
Prior to setting up Mind Matters, Vinit Mahey was Vice President of one of India's leading PR Consultancies, where he held many important positions. He was instrumental in steering the Pune operations into the leading profit center in the network and devising innovative modules of PR.
Vinit has been a Pune University topper in the Masters Degree program in Mass Communication when he had also interned with The Discovery Channel. He started his media career in the mid-90s on the newsdesk of The Indian Express where he a acquired a thorough and in-depth understanding of the Press. This rare exposure of the finest newspapers in India and a leading global media company early in his career has played a key role in shaping high standards of professionalism and ethics, the pillars on which Vinit has built Mind Matters.
Vinit has produced documentaries that have been repeatedly telecast on India's national channel – DD1.